Werner Urban is a Dutch composer/producer of contemporary beats and soundtracks. His music appears through a wide range of media platforms, mainly distributed and represented by internationally operating music labels and publishers.

His musical signature is rooted in the late 80's and 90's hip hop and street-art movement. Attracted to the energy of 'the beat', Werner developed a style of music, which is strongly based upon rhythm. His interest in street-art culture and visual art in general is at the base of his passion for working cross media. It also triggers his sense for capturing 'the unheard': field recordings and dissected recordings of day-to-day sounds are part of his sound-pallet. Without committing himself to one specific genre or mood, Werner's style of music touches at the heart of instrumental hip hop, bass music, soundscapes and electronic music in general.

Werner studied Musicology, Audio-Engineering, Studio-Sound, Corporate Communication and Music Publishing. He runs Boombox, an alternative hip hop label and Raw, an urban production music label.
Over the years, performing artists, broadcasting networks and production companies employed Werner to write tailor made soundtracks to their projects. Werner can cater his style of music to your specific needs, whether it's an artist song, lead music, background music, a soundlogo or a 90 minute movie score. You name it, he's in it!
Tropenmuseum N8salon: 'Droomsequence'
Cinedans: 'Festival trailer 2013′
Cinedans: 'Festival trailer 2014′
Impakt: 'Capitalism Catch 22′
TED: 'Are Elvish, Klingon, Dothraki and Na'vi real languages?'
Staatsbosbeheer: 'Boomkroonpad'
Herinnering op linnen: 'Je eigen meesterwerk in 3 stappen'
Arriva: 'Opening workspace Zutphen'
Vicky Smits: 'freestyle dressage to music'
Boerke van Winssen: 'De Hond'
CDA: 'Europa, het kan ook anders'
Besides custom made music, there are hundreds of Werner Urban tracks available for professional use in television, radio, film, video, advertising and new media. A wide variety of corporate video production companies synchronise his music, as well as broadcasting networks worldwide.
To allow worldwide access to his production music, Werner runs his own label RAW and collaborates with independent and major music labels and publishers around the globe. If you want to get acquainted to his repertoire and want to include tracks in your productions, feel free to contact the publishers below:
Armed with a fieldrecorder and a pair of headphones, Werner hits the street to create and capture sonic structures to compose soundtracks and music with. He uses the acoustics of abandoned buildings and desolate places, while designing and recording sounds out of trash and scrap material found on the spot. His 'audio expeditions' took him to Berlin, Duisberg, Wroclaw and Mexico.
While cycling through Berlin searching for sounds to record, Werner's eye felt for these massive ornamented front doors. He took pictures and added the most interesting ones to a mosaic form. 'Berlin Gates' is an A1 poster and can be ordered via info@wernerurban.nl. Price €10,- (without shipping).
MUSIC IS EVERYWHERE (RISOPRINT & T-SHIRT)
In collaboration with HOAX a typographic design has been developed to translate Werner's audio expeditions visually. This 'Music Is Everywhere' design is available as an A3 limited edition risoprint and a t-shirt. Prints cost €10,- (without shipping) and can be ordered via info@wernerurban.nl. Shirts are available at Tjunk.com
Werner's discography is available on iTunes. To audition projects, please click on the album covers above.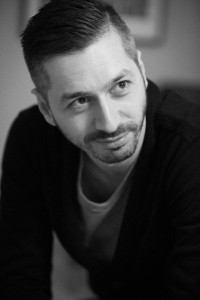 Werner Urban
Werner Urban
Spaarnestraat 11a
3522 VB Utrecht
+31(0)624431404
info@wernerurban.nl

KVK: 30221909